MASSKARA FESTIVAL IS NOW APPROACHING.
Do you know the story behind MASSKARA FESTIVAL and how Bacolod City got the name " CITY of SMILE?"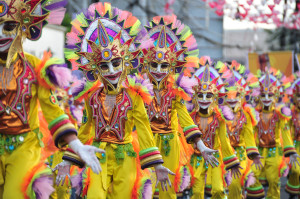 The  annual MassKara Festival held in Bacolod City every October is a celebration which has earned for Bacolod the title "City of Smiles".
It was born 25 years ago at a time of crisis, when sugar prices were crashing. It was also a time of tragedy; in April of that year, the vessel Don Juan carrying many Negrenses, including those belonging to prominent families in Bacolod, sank.
In this dark and tragic time, Bacolod artists as well as the local government and civic groups decided to hold a festival of smiles, because the city at that time was also known as the City of Smiles. They also thought a festival was a good opportunity to pull everybody out of the gloom and doom.
In effect, the festival was a declaration of the people that no matter how tough and bad the times are, Bacolod is going to pull through, survive, and in the end, triumph.
MassKara is a festival for local and international tourism. It is intended to provide a venue for the activities and cultural expression.
The word "MassKara" was coined by the late AAB president Ely Santiago from the two words "mass" which means "many or a multitude of the people" and the Spanish "kara"meaning "face". The mask worned by the participants during the parade are always smiling. MassKara thus means a multitude of smiling faces.
Since its inception, the MassKara Festival is held every third weekend of October nearest the Charter Anniversary. It features a MassKara Street Dance competition where people from all walks of life troops to the streets to see colorful masked dancers gyrate to the infectious rhythm to the Latin musical beat in a stunning display of mastery, gaiety, coordination and stamina. Major activities are the beauty pageant, carnivals, drum and bugle corps competitions, food festivals, sports events, musical concert, agri-trade fair, garden show, to name few.
(SOURCE: Bacolod City Government – http://www.bacolodcity.gov.ph/story_behind.htm)
Want to witness and be a part of this event?
KARI NA SA BACOLOD KAG MAGSINADYA!
AVAIL OUR AFFORDABLE OFFERS THIS OCTOBER!
AFFORDABLE VEHICLE RENTALS
Inclusive of: services of a Driver and with fuel
      Limit Area: Within Bacolod City only
1. VAN (12 persons max capacity)
              7 – 8 hours =  Php 2,800.00
            9 – 10 hours =  Php 3,100.00
          11 – 12 hours =  Php 3,400.00
2. ADVENTURE / INNOVA (8 persons max capacity)
              7 – 8 hours = Php 2, 500.00
            9 – 10 hours = Php 2, 800.00
          11 – 12 hours = Php 3, 200.00
3. AVANZA (7 persons max capacity)
               7 -8 hours = Php 2, 200.00
            9 – 10 hours = Php 2, 500.00
          11 – 12 hours = Php 2, 800.00
We also offer
HOTEL ACCOMMODATION
with
FREE ROUND – TRIP
AIRPORT – HOTEL TRANSFER

and

OPTIONAL TOURS

in Bacolod City
For inquiries and other concern, please contact us-
CJ n' C TRAVEL & TOURS
Door C4 Goldenfield Commercial Complex
Araneta St., Bacolod City
Tel no. (034) 431.1192
Mobile #s: 0912.2320.748 or 0939.7744.129
Email: cjnctravelandtours@yahoo.com
URL: www.mynegrosislandguide.com