RENT A CAR SERVICES IN BACOLOD CITY
Are you looking for a vehicle to rent while you are in Bacolod City? Or do you need a transfer from the airport to Bacolod downtown area and back?
Worry no more! CJ N' C TRAVEL & TOURS will help you!
CJ n' C Travel & Tours offers a brand new and highly maintained vehicle at a lower priced.  Its drivers are well trained, reliable and accommodating ensuring their guests for a safe and comfortable travel.
RENTAL RATES
CAR / ADVENTURE
Php 1,500 for 24hours, self driven, without fuel
Php 2,000 for 10hours with driver, without fuel
Additional charges apply for out of town route
No mileage limit
VANS
 Php2,500 for 24hours, self-driven, without fuel
 Php2,500 for 10hours, with driver without fuel
TOYOTA GRANDIA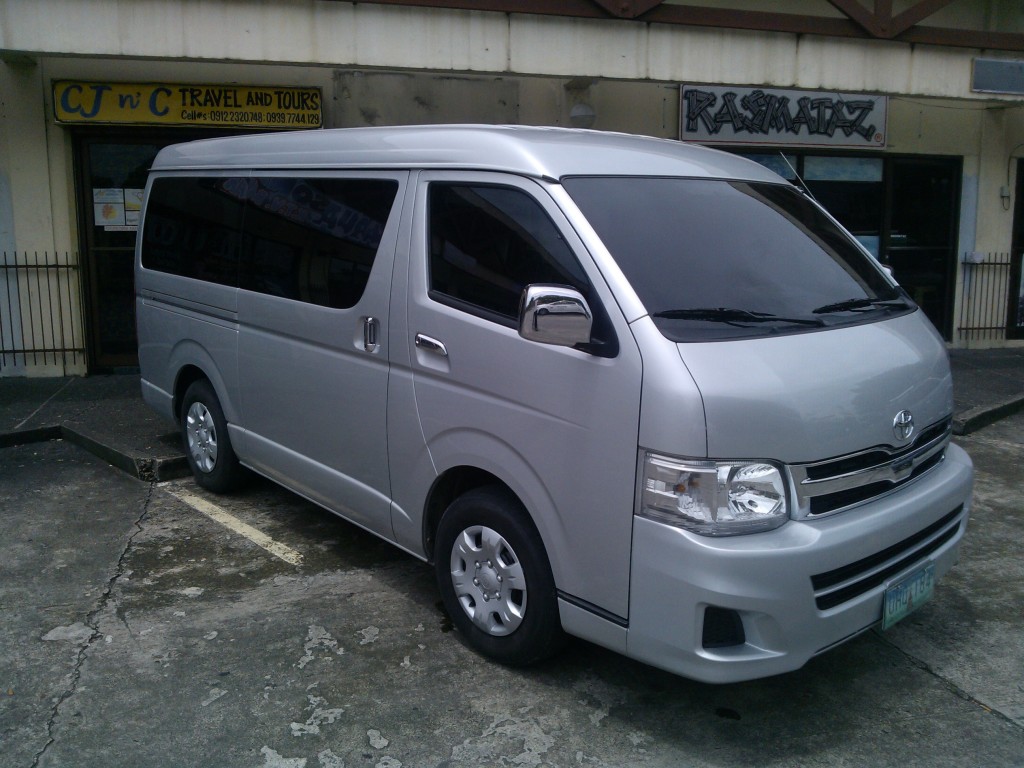 Php 3,000 for 24hrs self driver, without fuel
Php 3,000 for 10hrs use with driver, without fuel
MITSUBISHI MONTERO also available upon request
PRIVATE AIRPORT – CITY HOTEL/DOWNTOWN TRANSFERS
(per way /  vice versa)
1- 4 persons =  PHP 500.00
5 – 6 persons = PHP 700.00
7 – 8 persons = PHP 800.00
10 – 12 persons = PHP 1,000.00
RENTAL RATE VARIES DEPENDING ON YOUR DESTINATION
NO MILEAGE LIMIT!
BOOKING PROCEDURE, REQUIREMENTS AND CONDITIONS:
1. Booking must be made at least 2days before rental
2. Booking could either be made thru txt, email or you may call us on the number listed below. Kindly include your complete name, inclusive date of rentals, # of persons, your complete address and contact #/s.
3. For self-driven vehicle:
      3.1 pick up is at our office for you need to sign a rental agreement. you also need to present an ORIGINAL and VALID drivers license and one(1) government issued ID
      3.2 A fifty percent (50%) downpayment is required upon vehicle pick up. Or you may also pay in full in advance
4. For chauffeur driven vehicle:
        4.1 Full payment is required upon service completion. Must be paid in cash.
5. Excess hour rate: for both self – driven and chauffeur – driven vehicle, excess is Php 200 per hour rate
FOR INQUIRIES, RESERVATION AND OTHER CONCERN, YOU MAY CONTACT US AT:
CJ N' C TRAVEL & TOURS
(034) 431.1192 /  09998.535.8143 / 0915.5577.452 / 0922.7231.941
cjnctravelandtours@yahoo.com
Goldenfield Commercial Complex, Araneta St., Bacolod City