Bago City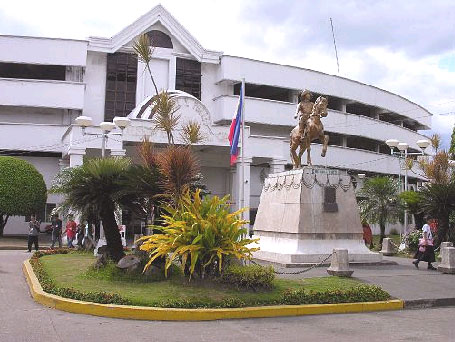 Bago was founded by an Augustinian priest, Father Geronimo Marin, on June 24, 1575, coinciding with the feast of St. John the Baptist. Spanish historian, Diego de Povedano wrote that the community was named after a large tree called "Bago" under which a native prince Mapagic died.

Another version, however, noted that the name came from the shrub, bago-bago that grew abundantly in the riverbanks. Around the 17th and 18th Centuries, settlers from Molo, Iloilo formed a little village at the mouth of Bago River, presently a rich source of sand and gravel. The village grew into a large settlement prompting its elders to pass a petition for its conversion into a town or pueblo, which was granted in 1800.

Bago became a city on February 19, 1966 by virtue of Republic Act No. 4382 with then Mayor Manuel Y. Torres as first city mayor, holding over from his election in 1959. Bago City is a top rice producer in the province and is home to industries like the Maao Sugar Central, Viva Mineral water bottling plant, Ginebra San Miguel distilled products and the Alter Trade muscovado mill, among others. It is host to the 40 to 80 megawatts capacity PNOC-EDC's Northern Negros Geothermal Project that will be commissioned in early 2007.

Festivals

Babaylan Festival - of all figures in the history of Negros Island, the Babaylan is the most colorful and enduring. The Babaylan is a doctor, herbalist, artist, medium, adviser, agriculturist and more, all rolled in one very interesting character. He is the keeper of rituals and spirit agents in normal world. He inspires awe and fear. The Babaylan Festival was conceived to highlight a unique brand of Filipino heritage, one that dates back to the pre-Spanish period. The festival aims to rediscover the region's indigenous music, literature, dances, rituals and other artistic endeavors.

Al Cinco de Noviembre or Cannon Festival is a historical festival that commemorates the Negrenses' bloodless revolt against the Spaniards led by Gen. Juan A. Araneta in 1898. In commemoration of that historic bluff that freed Negros from Spanish Conquestadores in 1898, the City Government of Bago celebrates that event with gleeful reminiscence and pride for the great General and his gallant men from this city who were armed with courage and ingenuity who played a great role in the history of Negros. Spanish authorities in Bacolod capitulated after seeing advancing troops armed with rifles and cannons which were actually nipa stalks and rolled sawali mats painted black.

How to get there

Bago City is a 20 to 30 minutes drive south of Bacolod City by private car. Public utility vehicles abound in this first stop over going south of the provincial capital. Car rental facilities are available through reservation. All roads leading to all barangays in the city are asphalted.

Location

Bago City is bounded on north by Bacolod City, on the northwest by Guimaras Strait, on the southwest by the towns of Pulupandan and Valladolid, on the east by the cities of San Carlos and Canlaon and on the south by La Carlota City.