Municipality of San Enrique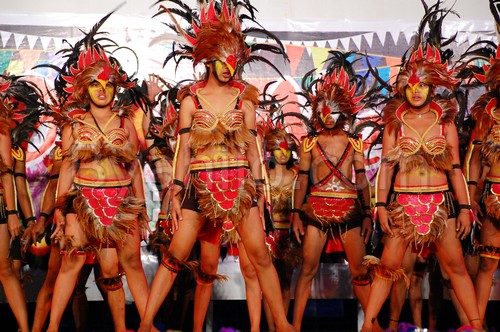 San Enrique is a 4th class municipality in the province of Negros Occidental, Philippines. According to the 2000 census, it has a population of 22,091 people in 4,419 households.

It was called as "Pueblo de Tinobagan" in 1840 when it was ruled by the friars headed by Fr. Eustaquio and appointed Juan Espinosa and Benigno Aguirre as cabezas to lead the two pueblos with their main duty is to collect taxes for the Spanish friars.When a Spanish army general visited the place, he re-christened Pueblo Tinobagan into San Enrique, and after this event the place improved, many newly infrastructure build like church, bridge and roads connecting Pueblo of Pontevedra(formerly Marayo) and Pueblo Valladoilid(formerly Dolid).For almost 50 years under the governance of Spanish, the people revolted against the injustice imposition of taxes by the Spanish friars.

A group of revolutionist led by Titong Custodio arrested all the Spaniards and brought them to the Pueblo of Buklod(now Bacolod) and this eventually the end of Spanish tyranny in the town.In 1898, a group of American soldiers arrived at the Sitio Utod of the town and proceeded to the town of La Carlota and lived there for almost three months. When they returned back to San Enrique, Americans appointed Victoriano Rodriguez as the first president of the town.

The convent in the town was temporarily used as municipal hall. In 1904, San Enrique was annexed to the town of La Carlota for almost three years. The townspeople petitioned in 1907 that they be separated from La Carlota, and Angel Ledesma was appointed president afterwards.
Festivals
Bulang-Bulang Festival is celebrated every February 2-9. The festival gives recognition to the game fowl industry which is one of the major sources of livelihood of the town. Bulang-bulang is a character dance presentation which depicts the life and character of the fighting cock.

Annual Town Fiesta is celebrated every February 9 in honor of the patron saint of the town Nuestra Señora de Candelaria.

Derby or Cockfighting is a regular event to highlight every fiesta.
Famous Landmarks
Our Lady of Candles Parish Church was founded by the Recollects in July 1864. Fr. Angel Zamodio, parish priest in 1954-1970 constructed the belfry, undertook the church repair and embellished it with statues of saints and benches.

Las Olas Beach Resort at Barangay Tabao Baybay is half kilometer from the highway. It has a restaurant that is open 24 hours and specializes in fresh seafood. Beach swimming is best in the area with other amenities such as open and elevated cottages, function hall, videoke bar, game fishing (seasonal) and overnight accommodations.

Soleo Beach Resort at Barangay Poblacion caters to seminars and conferences in their function halls. Serves variety of food in their restaurant, has swimming pool and beach swimming is also best in the area.

Gregory Beach Resort in Barangay Tibsoc caters to wedding and party receptions and overnight accommodations. Bird watching in the beachfront is a special attraction.

Barangay Tibsoc Wetland 2004 Mid-Winter Bird Count has identified 12 species of migratory birds dwelling in the area. These birds are visible during months of August up to September.

Kamunsil Integrated Farm is a sprawling 1.3-hectare plantation of fruit trees and vegetables organically-grown by owner Abner Jardinico. The management has a tie-up with the UP Los Baños Agriculture Department and will soon open a function hall that could be used by students during field trips or educational tour. The farm manufactures Green-base vermin-organic fertilizer.

Tignanam Tree or ficus variegate is the biggest tree marking your entrance to the town of San Enrique. Tignanam originated from Guintubdan or the province of Guimaras