Municipality of Eb Magalona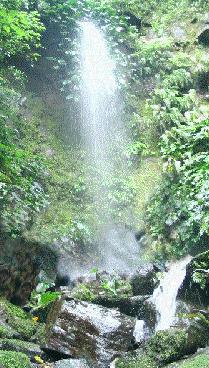 Enrique B. Magalona (also known as E.B. Magalona and formerly known as Saravia) is a 3rd class municipality in the province of Negros Occidental, Philippines. According to the 2000 census, it has a population of 54,490 people in 10,498 households.

The town was named Saravia after the first Spanish military governor of Negros, Don Emilio Saravia (1856-1858). The original inhabitants of the place were Negritoes who were gradually driven to the mountains by settlers who came to make their permanent homes in choice lands in the present poblacion.

The first group of settlers in the town came from Albuquerque, Bohol. They were led by Florentino Rubiato who became the first "Cabeza de Barangay" of the place then called "Tukgawan", located between the rivers of Madalag Pequena and Madalag Grande.

The exact date of the creation of Saravia into a municipality is rather controversial. A Spanish chronicler mentioned in his "Apuntos de la Isla de Negros" that Saravia was created into a town in 1858. However, another Spanish chronicler in his "Resena Historica de Negros" recorded Saravia's conversion into a municipality in 1880. It is however safe to assume that Saravia became a municipality in 1889, when Recollect priest Fr. Pedro Lago took over the administration of Saravia.

The first Capitan Municipal of the town was Santiago Reyes. He was succeeded by Carlos Magalona, who with his brother Vicente, father of ex-senator Enrique Magalona with whom the town was named after, alternated over the position for the next 15 years.

House Bill 511 authorized by the late Congressman Armando Gustilo changed the name of Saravia into E.B. Magalona on August 19, 1967.
Man-made Rice Terraces in Sitio Tabuan, Barangay San Isidro is an exact replica of the Banaue Rice Terraces.

Battle of Guintabuan is a marker built in memory of the heroes of "Guintabuan", an event about the struggle of the local revolutionaries who opposed American rule after the fall of Spain. It was in Sitio Guintabuan where expeditionary fighters from Iloilo met with the local forces to engage the American soldiers.

Century-old Mangrove in 42 hectares mangrove forest in Sitio Buyog, Bgry. Alicante is home of wild ducks and birds.

Dabo Dabo Falls and Bat Sanctuary in Brgy. Canlusong is about 35 kilometers east of the town proper. Ideal for nature enthusiasts and trekkers.
Festvals
Ugyonan Festival is celebrated every first of May. Ugyonan which means "cooperation" was conceptualized to celebrate the Labor Day which is also the feast of Saint Joseph the Worker, the town's patron saint.
Famous Products
Blue Crabs. The town is famous for its blue crabs found in Brgys. Tomongtong and Latasan.

Cauldrons. The town is famous for its quality cauldrons or "caldero" manufactured by Blue Panther in Barangay Tabigue.

M-Celeste Jeepneys are manufactured in the local foundry shop in Brgy. Alicante.