San Carlos City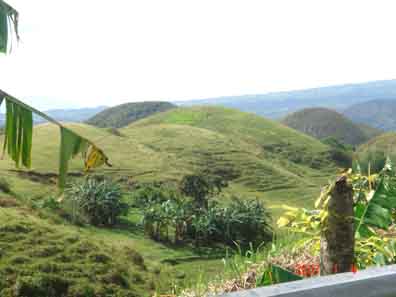 San Carlos City is a 2nd class component city in the province of Negros Occidental, Philippines. The settlement was elevated to city status on July 1, 1960 per Republic Act 2643. According to the August 1, 2007 census, it has a population of 129,809 people. Located along the coast of Tañon Strait, the city is located at the crossroads of four major cities in the Visayas: Cebu City, Bacolod City, Iloilo City and Dumaguete City.

It has a long coastline that runs to 40 kilometers which is protected by the city's mangrove reforestation program while its seas are closely guarded from abuse by this active Bantay Dagat force. Nature has also endowed with a deep natural harbor that can take in large shipping vessels.

This harbor is also protected from inclement weather by Refugio Island. Due to these special attributes, the Philippine Ports Authority has chosen the San Carlos City port from among other ports in the province for its expansion program in 1998 which include the reclamation of four hectares of sea to accommodate various port buildings, facilities and container vans, an extension on the east side for two RO-RO vessels and the extension of the length of the port to 242.5 meters.

Festivals

The Pintaflores Festival was born out of the city's search for a cultural identity and tradition. With Cebu City having its Sinulog, Bacolod City its MassKara Festival, and Aklan its Ati-atihan, San Carlos City also dreamed of having its own unique festival.

In 1992, after successfully holding two activities, the Nabingkalan Tattoo Festival and the Dances of Flowers as highlights of the city fiesta, the idea of blending the two concepts to come up with a presentation that could be considered the city's very own started what today is one of the most popular street dancing festivals in the region, the Pintaflores Festival.

Pintaflores is coined from the words pintados ("painted ones"), the concept behind the Nabingkalan Tattoo Festival, and flores, the Spanish word for "flowers" that dominated the theme of the Dances of Flowers. The Pintaflores street dancing and ritual competition highlights the annual Pintaflores Festival every November 3-5.

It features rhythmic dances and dance dramas of life and death and the triumph of good against evil that depict the people's thanksgiving and merriment, abundant blessings and success. As part of the Pintados tradition, the faces, arms, bodies and legs of the dancers are painted with flowers to express gratitude to man and his environment.

The street dancing is culminated by a dance ritual performed at the City auditorium. Different dance steps and musical accompaniment add to the thrill of the competition. The human flower formation is another impressive part of the dance ritual which are products of the ingenuity and skill of the choreographers and dancers.