Victorias City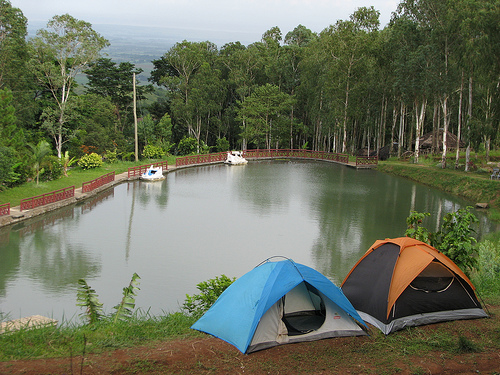 In 1991, the Department of Tourism identified Victorias Milling Company as one of the major tourist attractions in the city with its 18 hole golf course sprawling over a 30 hectare area, the Saint Joseph the Worker Parish, famous for its Angry Christ mural, antique locomotivepopularly known as the "Iron Dinosaur". Aside fromVMC, Victorias City is proud of its public plaza known for its imposing landscape and grounds that features a skating rink, SK and Senior pavilion, children's playground and a mini lagoon ringed by plants and flowers; the seat of local government, the City Hall of Victorias has quite an imposing facade. Inside, the second floor lobby has elicited appreciation from visitors for its hotel-like ambience. Victorias City is home to one scenic place that has great potential as a major tourist attraction.
This is the Seven Natural Falls of Gawahon, located at Barangay XI. It's clear waters provide excitement and enchantment to those who would like to take a plunge in icy cold and invigorating water. In addition, Gawahon is a pristine forest with assorted flora and fauna to delight nature lovers.A beautiful view of man-made rice terraces may also be glimpsed in the area. Gawahon was the subject of a bill filed by former Congresswoman Edith Yotoko-Villanueva for creation as an ECO-TOURISM zone once in operation, the tourism potential of the place will be enhanced and its natural beauty preserved, further boosting the tourism industry of the city.

Transportation

The total road network of the city is 72.53 km. Jeepneys, passenger buses and taxi units are the main transport modes through the highways. Inland barangays can be reached through locally owned and operated Jeepneys, tricycles. 3 local public utility buses ply the Bacolod Victorias route, namely ALKO Lines, Rainbow Lines and Victorias Royal Transit.

Sports, Recreation, Culture and Festivals

Amusement places can be found in several nooks and corners of the city. Places of entertainments are Senior Citizens Pavilion, Public Plaza judged as the most beautiful plaza in the province, SK pavilion, skating rink, and children's playground, city gymnasium where basketball and boxing tournaments are held occasionally.The VMC golf course and country club is a nice place for relaxation because of its quiet and invigorating atmosphere.At present, Victorias City has 3 gymnasiums (city gym, La Salle gym and DBTI gym); 18-hole golf course, 21 basketball courts, and 2 athletic fields. Victorias City hosted a number of municipal (city), district, provincial and regional athletic meets.The city celebrates its Charter Anniversary with Kadalag-an Festival – a dance drama as old as the city, conceptualized during the 1st charter anniversary. It is an emerging festival of Victorias that showcases streetdancers in colorful costumes. It is a week-long activity in celebration of the city's Charter Anniversary that ends M
arch 21.

Festival Kadalag-an

The history of Victorias reminds us of the colorful and victorious past of ictoriahanons characterized by a culture and tradition that spans several generations.KADALAG-AN symbolizes the many victories achieved by the people against adversities in life. This is in addition to the literal translation of Victorias which is victory. Even before its proclamation as a separate town from Sarabia (now E.B. Magalona) Victorias struggled to become a wholesome, peaceful and progressive community. But the journey to development was beset with such problems as poverty, crime, disease and other obstacles to progress. Particularly devastating were the frequent raids of Moro pirates who carted off valuables, food and even women. For quite a time, the Malihao settlers faced this problem bravely but being ill-equipped, they were always vanquished by the pirates. The desperate settlers pleaded with Heaven as their last recourse. Their prayers were not left unanswered because a mysterious and beautiful lady accompanied by a big
man came to their rescue.